Halima Aden Decides to Keep Moving with Her Hijab
The first hijab-wearing model, Halima Aden broke the glass ceiling in 2016 by becoming Miss America. However, criticism has always moved in line with her success. Last week, Aden took to her official account on Instagram, where she shared her journey and refused to change.

In a personal post, along with her picture as a young girl wearing the hijab, she made clear of not backing down from her choice of wearing the head scarf representing her beliefs. "My hijab is not going anywhere.. not today, not tomorrow, not ever," she wrote.
The Somali-born model from a refugee camp in Kenya moved to the United States at the age of six. At 22, Aden decided to step up and paint the fashion world in new colours. After the first success in 2016, she entered the mainstream fashion world the next year, where she walked for Kanye West's Yeezy fashion show in New York.

In these three years, she had not just walked for big brands, but also made appearance on covers like CR Fashion Book. Besides, she has also starred in campaigns for Burberry, Nike, Sports Illustrated, and others. However, where most have accepted her, some have been against her appearance, which speaks of her following Islam.

A well-known global face, Halima Aden is believed to have been encountering mean comments from several users for being a Muslim refugee. "The road has been long and very painful at times but also so incredibly rewarding," she wrote.

"I'm not asking you to stop the criticism," she continued, "I'm just asking you to see me as a human being. It's easy to pass judgement when you've never walked a mile in someone's shoes."

Several celebrities came up to encourage Aden. "Louder, for the ones in the back, trying not to hear it," wrote Queer Eye's Tan France.

Actresses Yara Shahidi and Storm Reid also supported her, calling her post "beautiful" and a "reminder to continue seeing one another".

In a country like the US, where Islamophobia is spreading at a greater pace, Halima Aden has not just become a model, but a role model for many. Besides, where criticism has remained, she has sought her ways of emerging better and stronger.
Billie Eilish: Teenager Sweeps Grammy Records with Musical Mop
Billie Eilish, the name emerged from a mini bedroom, which now has five Grammys on the shelves.

The teenage popstar brought a different wave to the industry with her sweet musical bombs, which burst in colors that spread worldwide. The 18-year-old was honored for the exceptional talent at the 2020 Grammys, where she won five awards, including the "Best New Artist" and "Song of the Year".

Besides, her debut, When We All Fall Asleep, Where Do We Go?, became "Album of the Year". On a roller coaster of global stardom, Billie Eilish created the album with her brother Finneas O'Connell in a tiny bedroom studio, at their childhood home in Los Angeles, California.

The album topped the charts in the United Kingdom, the United States and across the world, after its release, last year. "I joke around a lot at these things, but I genuinely want to say I'm so grateful," said the singer.
At the 2020 Grammys on Sunday night, Billie Eilish became the first teenager to triumph all the "big four" marquee categories— "Best New Artist", "Song of the Year", "Album of the Year" and "Record of the Year".

The "Everything I Wanted" singer replaces popstar Taylor Swift as the youngest person ever to win "Album of the Year". Besides, she also trounced Christopher Cross, who won the feat of Grammy's four major categories in 1981.

Billie Eilish was raised in a musical family and followed the musical notes of her elder brother Finneas to become what she is. She earned a loyal fan base in 2015, with her debut single "Ocean Eyes" written by her brother. Besides, she became number one on the US Billboard Hot 100 for the first time after "Bad Guy".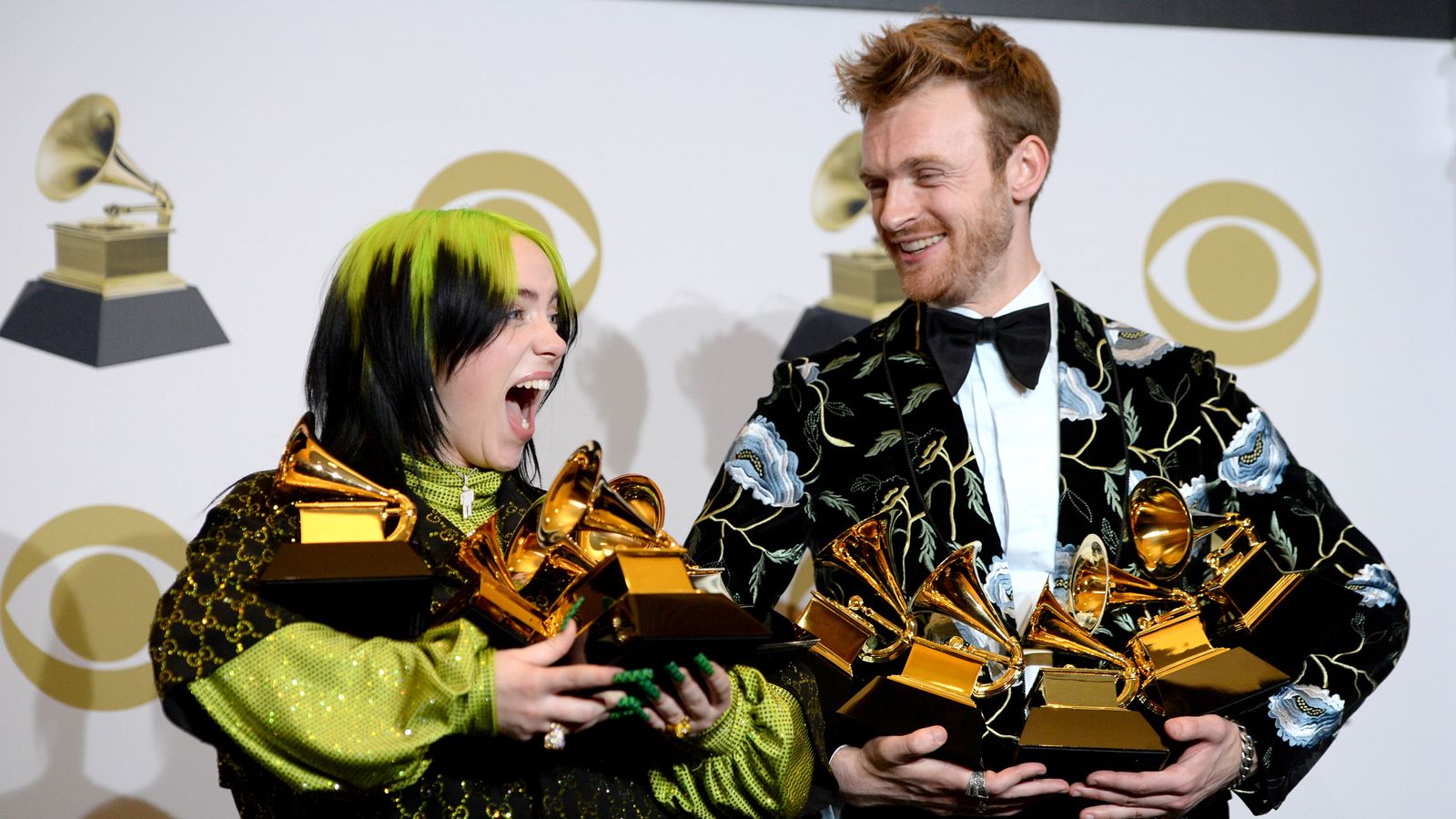 Finneas O'Connell also won the "Producer of the Year" award at the Grammy's this year, for his work in Eilish's album. He explained that it was recorded at home because "I'm the most creative where I'm most comfortable," adding that the Grammy was "a huge honour" for "making home-made cookies".

Billie Eilish, on the other hand, was overwhelmed by the extent of her dominance at the 2020 Grammy. On receiving the award for "Album of the Year", the singer said, "Can I just say that I think Ariana deserves this?"

The singer on the red carpet said that she felt like a deceiver. "I feel like I'm not supposed to be here," she joked. "I feel like they accidentally let in a fan."

The siblings together broke the records at 2020 Grammys, with their music on "depression, suicidal thoughts and climate change and being a bad guy". However, the recent single on the brink of becoming another record breaker, "Everything I Wanted" is their story and tribute to each other.